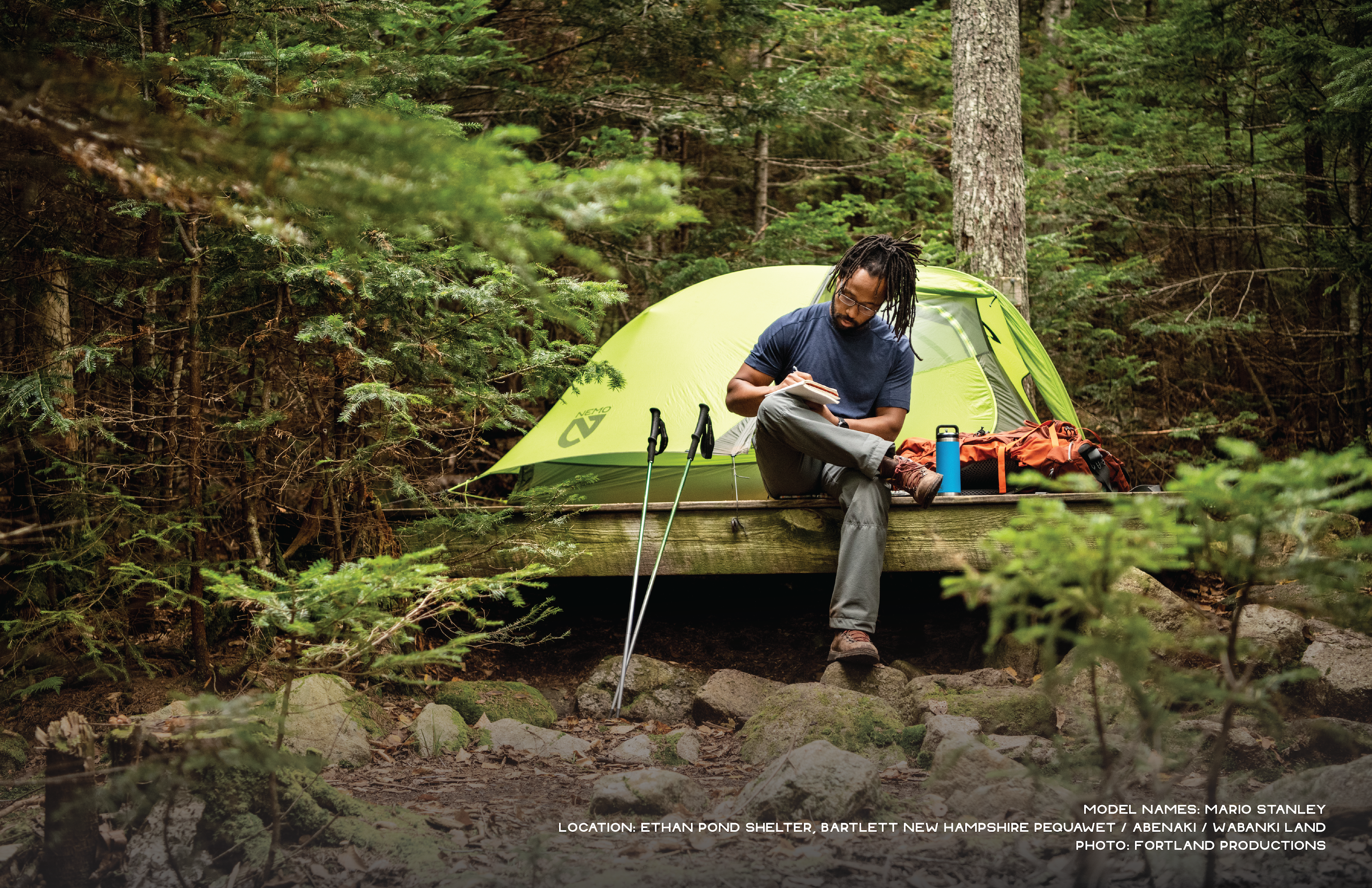 Resources for a Lifetime of Adventure
Prep for your next outing with expert advice, inspiration, and more.

A fan of the outdoors from an early age, Laurie set aside her urge for adventure to focus on her career, marriage, and children until she was in her 50s. Then she revisited her wilder side — and turned that passion for the outdoors into a whole new career.
Watch the Video
Guides to Hire
Whether you're trying something new or want to take your skills to the next level, an experienced guide can make all the difference.
NEMO Ambassador
Mario Stanley
Professional Rock Climbing Guide & Coach
Region: Texas
Hire Mario
NEMO Ambassador
Laurie Watt
Pro Guide: Rock and Ice Climbing
Region: New England/Pacific Northwest
Hire Laurie
NEMO Ambassador
Luz Lituma
Founder Latinxhikers & Outdoor Enthusiast
Region: Nationwide
Join Luz
Places to Go
Where to next? Try these NEMO-approved spots. 
PLACES TO GO
Pawtuckaway State Park
Our favorite park in New Hampshire, Pawtuckaway boasts a ton of trails, a fire tower peak for great views, and cool, clear lakes for that post-hike dip.
PLACES TO GO
Ethan Pond Campsite
Operated by the Appalachian Mountain Club, this campsite is situated at the edge of the Pemigewasset Wilderness and features an Adirondack-style shelter and five tent platforms.
People to Go With
In need of an adventure crew? We know just the folks.
PLACES TO GO WITH
Latinxhikers
Latinxhikers is a grassroots initiative dedicated to breaking down barriers in the outdoors by creating access, providing representation, and empowering the Latinx community to connect with nature. Allies welcome.
PLACES TO GO WITH
Camp Yoshi
Camp Yoshi creates a space for Black folks and allies to unplug with their custom, guided outdoor adventures. Each curated experience includes route planning, gourmet menus, supplies, and documentation.
PLACES TO GO WITH
Inclusive Journeys
For adventures elsewhere in the United States, Inclusive Journeys has created a digital guide to help users find safe, inclusive spaces. Research businesses beforehand or leave reviews for future travelers!
Gear Guides
Everything you ever wanted to know about adventure gear — and then some. (It's kind of our thing.)
GEAR GUIDES
Top Methods for Packing Your Backpack
NEMO's Travis Gagliano puts a method to the madness of packing for multiday outings in the woods. Everything you need to get started.
GEAR GUIDES
Prep Your Kit for Summer Adventures
Before you head onto the trail, assess your equipment's condition and make sure everything is in working order — starting with these key pieces.
GEAR GUIDES
13 Uses for Closed-Cell Foam Sleeping Pads
Inexpensive, rugged, and comfortable, the closed-cell sleeping pad is a surprising Jack of all trades. (Well, at least 13.)
Camp Recipes
These are the meals we're daydreaming about during a long day on the trail. (Equally good at home, too!)
CAMP RECIPES
Fresh Atlantic Mackerel Ceviche with Habanero
A go-to ceviche recipe that can be applied to any lean, white-fleshed, saltwater fish — whatever the day's catch provides!
CAMP RECIPES
Top 5 Hot Chocolate Recipes to Sip by the Campfire
From a classic, no-fuss cup to a boozy hot cocoa, and even one with alllll the toppings.
Training Resources
Before you hit the trail, make sure your body is as prepared as your kit is.
TRAINING RESOURCES
Foundational Outdoor Nutrition
Proper nutrition is just as important as physical training. A mountaineering expedition, a thru-hike, and a day hike all demand very different fueling strategies.
TRAINING RESOURCES
Endurance Training for Mountain Adventures
Why heart rate, aerobic threshold, and anaerobic threshold are all key to building a strong cardiovascular foundation. Plus: Approachable workout ideas.
TRAINING RESOURCES
Gear Selection tips for Efficiency and Security on the Trail
Gear selection tips for efficiency & security on the trail and in the mountains. Everything you need to know for a seemless journey into your local wilderness.